Welcome to Back to Bed
We are excited to announce that our online store will be launched very soon! Until then please call, email or visit us in our stores, so we can assist you with all your enquiries. We have new products arriving!
Our futon and natural mattresses are made from 100% cotton fabric casing and are hand tufted to ensure there is no tearing of the fabric. We use only premium quality materials such as NATURAL LATEX, Australian WOOL and COTTON and are happy to make special orders to suit your needs.
For extra back or seating support ask our staff about adding a quality flexible COCONUT fibre layer to the centre of your futon. Our futons and natural mattresses are made so you can sleep on either side with comfort and we use all Australian content in our futons and natural mattresses where possible, so we keep Australians and Australian industry moving.
 PRE CHRISTMAS SOFA SALE :
*$50 OFF ALL DOUBLE AND QUEEN TIMBER BI-FOLD SOFA BEDS WITH SUPER THICK FUTON MATTRESSES (NOT INCLUDING THE SENDAI).
*READY TO GO AND SHIPPING DAILY.
*IN HOUSE SALE ACROSS ALL NATURAL LATEX MATTRESSES AND FUTON MATTRESSES.
*40% OFF MANCHESTER, IN HOUSE SALE!
CALL 1800 FUTONS (1800 388 667) OR (03) 9720 0555 .
Email: backtobed@live.com.au
Please ask us about our NEW UPHOLSTERY COVERS for our sofa beds.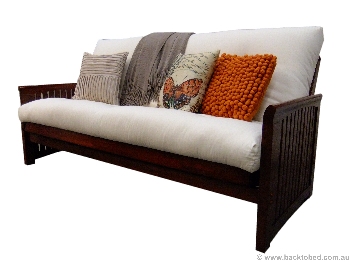 FULL SIZE DOUBLE AND QUEEN SIZE AVAILABLE!
ALL OUR FUTON SOFA BEDS HAVE:
THICK, QUALITY, HANDMADE, DIVINELY COMFORTABLE FUTON MATTRESSES. MADE FOR YOU WITH LOVE AND CARE.
YOUR GUESTS WILL LOVE YOU!
Call us 7 days on 1800 FUTONS (1800 388 667) or
Email us at: backtobed@live.com.au